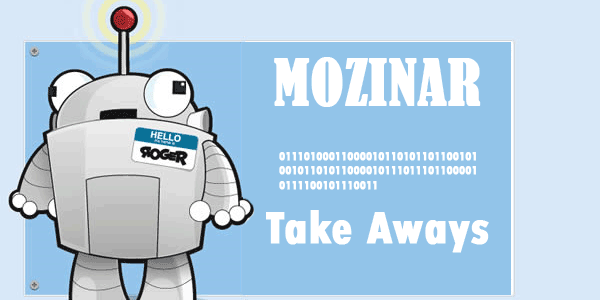 These are just a list of items I'm taking away from the May 25th, 2011 SEOmoz webinar "New Opportunities in Google Search"
Local Maps:
Google is showing 4 different types of mixed results for a local search,
Use consistent information across the board, look for places to get citations.. Ex: Formspring.com, put you address in social profiles,
For citations look at all the citations being pulled , not just for the top competitors,
For example look at the review places being pulled in for:  "Museum of Fine arts, Boston", see: judysbook.com
Getting into the 'Related Places' listings:
For related places, merchants that are listed on pages that have multiple citations will result in having a related places listing.
Google News:
How does one get into Google News? You have to submit. There are requirements from Google and this is a manually checked thing.
Timing Matter for Google news items, usually has to be posted within 48 hours. Ex: 'osama bin laden'
Page titles are extremely important, ex: 'hudson river plane crash' , New york times was on the story, however they named it poorly, 'Pilot is hailed after jetliners'
When putting out a news item, possibly take a different angle because a majority of writers will go for the mainstream.
Google News Homepage = Big Traffic Win
Have an image, it might get you the most amount of traffic because the image can be used for someone elses page listing.
Possible News Meta Tags:
meta name='syndication-source'
meta name='original-source'
Google's Explanation of Syndicate-Source
The rel='canonical' seems to do the same thing as the above, so more testing will have to be done.
Google Page About Rel='Canonical'
Google Image Search:
Ranking well for the keyword in SERP's has no advantage to image search
Most of the time the Image search will not show images from the top 10 in the SERP for the same keyword
On Page optimization rules this!
KW near the image tag, WordPress Captions are a great way to do this
Image folder location doesn't matter nearly as much as it use to;
Good:

http://www.site.com/images/keyword.gif
http://www.site.com/keyword/image.gif
http://images.site.com/keyword.gif

Embed images directly, don't use CSS
Related Searches:
For examples look at: Scotch, Snowboards.
(Note: Staples shows up for Scotch because of the Scotch Tape Company)
These seem to be influenced by:
Best Selling, Best known brands
Likely using a data source like Freebase.com (but not public)
Appears to have some connection to offline / realworld popularity
Similar to Sites:
Possibly comes from co-citations
Something Different:
I didn't get much on this, if you did mention it below.
My Social Circle:
Annotations from Social Connections showing in your personal Google SERPs
For Facebook:
Shares show in search results, Likes do not
LinkedIn:
While Google allows you to link them, sharing items on linked in doesn't show in the SERP
Other Profile Linked Places:
Quora
Do the Quora!
Answer Popular Questions
Use Graphics and Photos, 400 px wide max, they don't reformat images good just yet.
Yelp
Yelp, Doesn't appear to show any social annotations… Yet!
If you want to get more followers, talk more in events..
Google Suggest:
Use it to your advantage
'Beg the query', don't tell people about your product, do an ad campaign where there is no direct explaination. Cause the person to search for you, this can also be done
Social links to search queries, tweet: http://www.google.com/search?q=tokenrock
Do Events + Promotions, mention that you show in searches for 'mything' so people will search for 'mything'
Email Campaigns
Produce content that has the words together, syndication does not tend to work here
To Get Kicked Out Of Google Suggest:
Mechanical Turk, oDesk, eLance,
Malware + Embedded Pop-ups
Comment / Forum / Guestbook Spam
These will get you in trouble with Google
Things for me to look up:
Moz Top Ten
look at trend for 'seo', nothing before 2005 ish?
New SEOmoz Toolbar, ssshhh.
Delicious may be coming back…