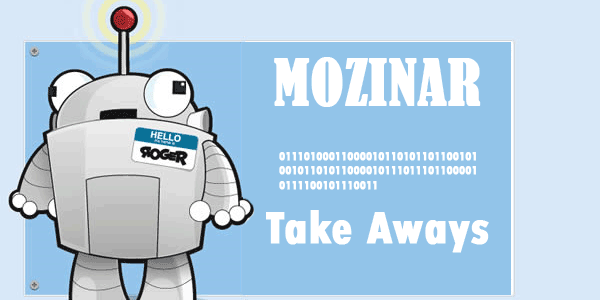 Here are my notes and take aways from the SEOMoz 'Effective Link Building' Mozinar with @JustinRBriggs
What makes an effective link builder:
Someone who gets the internet and is creative
Spends a lot of time on the internet
Good technical skills
Sociable Geek
Ingenuity
Hustler
Stop getting links and start earning them! ?
How can someone compete if they are in a brand dominated niche, and don't have a following?
Systematic Hustle
Backlink Competitive Research -> Competitive Analysis -> Brainstorm Approaches -> Actionable Ideas
Identify areas where your over and under the competition, do you need more uniques? Content based?
Infographics!
Hustle for links
Search for: 'Simple machine resource' look for kennesaw.edu
Make the site something that is worthy of linking to! Make it look, or make it, trustworthy.
Look at what the preferred page is currently linking to.
AppliancePartsPros.com <- Look at links for examples
Look for Mozpost: How to get links with info graphics.
http://www.stumbleupon.com/ads/ <- Paid Stumbles .05 an eyeball .. high bounce rate, you want to get tweets and stumbles from this.
Need stellar, targeted content.
Brainstorm the content.
Sometimes content fails. Link baiting doesn't always work, 3 out of 4 will/can fail.
JFDI. Just fucking do it. If you fail one time, get up and try it again.
Research Blogs
Incentivize the embed, show the potential link what they can expect, will it be more shares, more traffic? etc.
site:stanford.edu blog guest pst education
Use stanford people search
Link Giver Psychology
You can increase the success of your link request by initiating a low risk relationship. Get someones opinion on the item you are working on before it is live so that after it is live you can either mention them, and then get them to link to it.
Incremental Commitment
Have a Blogging contest!
Have people enter a name and email address into a form. On submits email them back and ask them to link to the contest to let people know it is entered into a contest. This text is is copied from the slide.
—————————-
Hi (name),
Thank you for your entry. I will pass it on to the judges
Would you mind placing the following code at the top or bottom of the post to let people know it's and entry in the contest?
This post is an entry for the <link>name of contest</link> being hosted by <link>brand</link>
Thanks!
<my name>
——————————-
Be creative!
Use a combination of link types. Ex. Use directory, infographics, articles
Avoid high difference between mR and PR. If PR is much lower it is possible that Google has devalued some of the links, and SEOMoz hasn't caught up.
Diversify your links. Oh did I just repeat that.
Ingenuity
Setup a Google Custom Search Engine
Create a Custom Search Engine for Yourself
Organize your information using Excel, here is a page about using Excel for different SEO functions:
http://www.distilled.net/excel-for-seo/
If you are looking for recent links that a site i sending out, not getting in use Bing and their search command, linkfromdomain:
Example: linkfromdomain:stevenferrino.com
Filter by date by adding items to the end of the Bing URL:
(Past Month) &tbs=qdr:m
(Past Week) &tbs=qdr:w
(Past 24 Hours) &tbs=qdr:d
Example: linkfromdomain:stevenferrino.com
The full article can be read here:
http://www.distilled.net/blog/seo/finding-fresh-linkers-quick-linkfromdomain-hack/
Scale Outreach
Consider using a Plugin like Tout to find and send emails to potential link partners: